Hey Guest! Did you know you can get games for free by simply being active on GameHandout? We offer mostly steam game codes to members for simply posting around. The more you post the more forum currency you obtain, which you can then turn in to the shop for free games! Check out the shop here: GameHandout SHOP

Dismiss Notice

Hello Guest... I see you do not have an account with us :O Joining will get you some games if you're active. When I say games, I mean free games, games like Dead Space 2, Bejeweled 3, and other amazing games. All for simply being active on our forum. Guess what, registering takes no more than 2 minutes. Simply put your desired username, password, and email in, and POOF! You're a member on our community. That simple, crazy right? Hope to see you here!

Dismiss Notice

It costs a lot to keep the site up and running, as well as buying games to giveaway! Help us out by donating :D

Dismiss Notice
GameHandout Community
Gaming Forum + Free game giveaways
Hello, hello, hello... I just wanted to remind you guys that this will be the last day you will be able to get Rayman Origins for FREE!!!... so if you wish to get the game if you still haven't here's the link :
https://club.ubisoft.com/en-US/welcome
The next game ubi will be giving is (*Drum Roll*) THE CREW. Yes, the next game will be the crew. Welplplplplp so what else???
Oh right! Dead Rising remastered is now out on PC so be happy. BTW steam's midweek sale is the Company of heroes franchise and The supreme leader sale so check it out on steam.
That's it for today BAIII gotta get ready for the fu*king typhoon.
VAL7J-I96VD-W8CVW Here is a code for Darkness II. I hope you all enjoy it!
I been a fan ever since I played FFX, about 5 or 6 years ago but anyways for anyone who are fans of Square Enix I recently learned a week ago that Final Fantasy XV was delayed 2 months, I'm sure that pretty much everyone who does pay attention to this game knows about this but I just felt like talking about one of my favorite developers but it did made me disappointed but also glad that they are taking their time....been waiting for a long time for this game.
We all know that the free game ubi is currently giving away Splinter Cell. BUTT
we now got another update bout what game is next in line to be grabbed by our library. So let's get down in the ups. Well according to my reliable source (*cough*) (*just saw it on twitter*) (*cough*). The next game they will be giving away is Rayman: Origins ... Don't worry it's not on origin it's on uplay I dunno if I should be happy bout that butttttttt
the game will be available on. *Drum Roll Please* August 17, 2016. So mark your calendars if you have one. And join us with countdown. Dat's it for now.


​
Who here loves Super Smash Bro's? I'm sure the mass majority of people agree that it is an extremely fun game. However, how many people own a Nintendo type of system, or have the money to pay for the game. Brawlhalla brings smash bro styled gameplay to the PC for FREE! Yes, you heard it. FREE!
Brawlhalla is an extremely fun, extremely addicting, and extremely competitive game much like Super Smash Bro's. A platform fighting game, where you pick up weapons, items, etc. and try to knock the other person out. Play several game modes such as timed mode where you see who can get the highest score in the amount of time. Score is depending on who you knock out. +2 for knocking someone out, -1 for being knocked out. At the end of the time, the person with the most points wins. Stock, a set lives of, normally 3 (Customizable). Once you get knocked out 3 times you're out. Or play some new, and creative game modes such as Brawlball. A football styled gamemode where you have to bring the football from one end to the other. Once you get hit it flies out of your hand. And much more.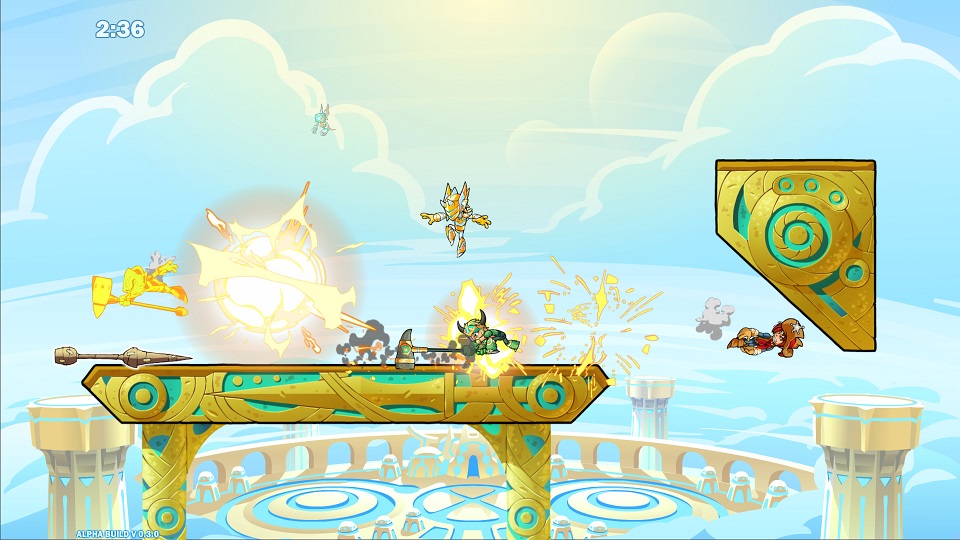 Choose from LOADS of characters, each one with their own unique attacks, styles, stats, etc. Find a favorite and play.
The graphics are really cute looking, cartoony styled artwork that goes great with the gameplay, and style of the game. It looks well made, though there are limited animations for each move, etc. Most characters share the same animation. For example, most swords, if not all share the up jump attack, and falling down attack. Same goes with just about every style of weapon. Axe, Spear, hammer, guns, etc.
Sound is the same with the graphics, often times the weapons share the same exact sound effect based on the type of weapon. The background...
First of all Personally I kinda feel bad cause you know I personally bought the first episode in its full price. Now I kinda feel like I wasted that money knowing that it's gonna be free anyway. I mean Sheeeesh couldn't you guys at least give as a pretty grandeus discount on the next episode. Well like what Dead Island Definitive Edition did I bought it for a cheap price cause of the discount because I own dead island.
ANYWAYYYYYSSS AS ALWAYYSSSSS HERE IT IS :
http://store.steampowered.com/app/319630/
Gaming Updates
Sorry bout what happened yesterday it was kind of a let down knowing that we won't get Splinter Cell anytime soon but anyways I'll make up to you. Plus look on the bright side what if we get a better game than Splinter Cell. But as far as I know I think the next game would be anytime in the mid of July.
But this will make ya more happy but you better be fast. Fat shark games the one who created Warhammer: End Times - Vermintide is giving something special. It is a multiplayer wild west styled game. AND CRAZY THING IS THEY ARE GIVING IT AWAY FOR FREE FOR THE FIRST 100,000 who joined so i'm giving you guys the opportunity to be one of em'. So nuff said get it now here :
http://100k.fatsharkgames.com/
ANYWAY that's it for today
CYA AGAIN TOMORROW or maybe not
ZAIMASTER OVER AND OUT
--- Double Post Merged,

Jul 14, 2016

, Original Post Date:

Jul 13, 2016

---
NEVA MIND WHAT I SAID THE MAYANS WERE RIGHT ABOUT THE SPLINTER CELL!!! AHHHHHH 2017 is coming